The original world before Surtr and the Fire Giants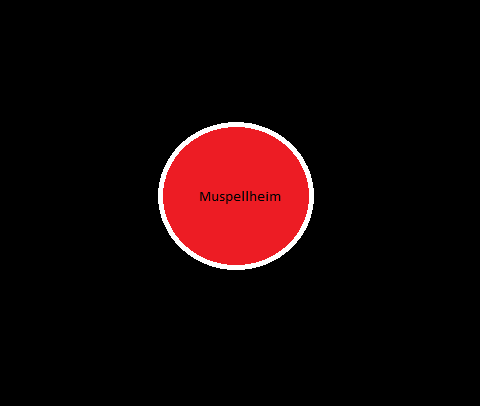 ...the first world to exist was Muspell, a glowing, fiery southern region consisting of flames, uninhabitable by non-natives. After "many ages" Niflheimr was made. Third assesses that "just as from Niflheim there was coldness and all things grim, so what was facing close to Muspell was hot and bright, but Ginunngagap was as mild as a windless sky". Third adds that when the rime and hot air met, it thawed and dripped, and the liquid intensely dropped. This liquid fell into the shape of a man, and so he was named Ymir. High explains that Ymir is the ancestor of all jötnar
The original world before Ymir according to norse cosmology:
High relates that Odin, Vili, and Vé killed Ymir, and his body produced so much blood from his wounds that within it drowned all the jötnar but two, Bergelmir, who, on a lúðr (the ark) with his (unnamed) wife, survived and repopulated the jötnar.[13]
Gangleri asks what, if High, Just-As-High, and Third believe the trio to be gods, what the three did then. High says that the trio took the body into the middle of Ginnungagap and from his flesh fashioned the Earth, from his blood the sea and lakes, from his bones rocks, scree and stones his teeth, molars, and bones. Just-As-High adds that from his gushing wounds they created the sea that surrounds the Earth
The world the gods built:
One can see why the middle world was called MIDgard.
Midgard is the ark (box) floating on the waters of chaos.
In Norse mythology, Miðgarðr became applied to the wall around the world that the gods constructed from the eyebrows of the giant Ymir as a defence against the Jotuns who lived in Jotunheim (which is of course niflheim)
http://en.wikipedia.org/wiki/Útgarðar
In
Norse mythology
,
Útgarðar
(literal meaning: "Outyards"; plural of
Útgarðr
; the word can be
anglicized
to
Utgard
,
Utgardar
and in other ways) surrounded a stronghold of the
giants
. In another version of Norse mythology, Utgard is thought to be the final of the three worlds connected to
Yggdrasil
being the home of the demons, the other two being Asgard and Midgard
Last edited: